Swimsuit season is upon us and we all know what that means! Sometimes summer weather is bitter-sweet isn't it? You love the warm weather, playing outside with your kids, boating on Lake Norman, and sporting our latest summer fashion. ALMOST everything about summer is desirable besides getting back into that swim suit that barely fit last year! Don't let past failures get you down and take charge of your body in 2012! Here are some of the best exercises out there to tone and tighten your butt before the summer beach season! If you work hard it you will never have to dread summer for any reason!
Exercise 1: Hip Lift  
A great exercise to work your glute muscles is the hip lift. To do this exercise, lie on the floor with your back flat, knees bent, and feet resting on the ground. While keeping your arms at your sides on the floor, lift your bottom and lower back off of the floor. Hold for a few seconds, and then slowly lower yourself. Repeat. To work your muscles even more, lift a leg in the air when you raise your bottom off the ground. Lower yourself and then repeat, lifting the other leg.
Exercise 2: Leg Lift  
To do a leg lift, lie on your side and prop yourself up on your elbow. Raise your top leg slowly into the air, as high as you can, so your legs make a "V" shape. Hold for a few seconds, and then slowly lower your leg. Repeat 10 times, turn onto the other side, and lift the other leg.
Exercise 3: Banded Shuffle
This is a great exercise to get your heart pumping and work your butt. To do this exercise, you'll need an elastic sports band. Stand up straight with your legs hip-width apart and tie the band around your lower legs. Squat down until your thighs are parallel to the floor, your back is straight, and your abdominals are tight. While in this squatting position, take several steps to the left, then several to the right. You may need to use your arms for balance, but your butt muscles should feel a workout.
Exercise 4: Plie Squat  Another form of squat is the plie squat. If you don't have an elastic band, this is the exercise to add definition and shape to your butt. Start by standing with your legs slightly more than shoulder-width apart and your toes pointed out to the sides. This is what ballerinas call the plie position. For balance, hold your arms in front of you. While keeping your back straight, slowly squat to the ground until your thighs are parallel to the floor. Hold this for five seconds and stand back up. Repeat 10 times.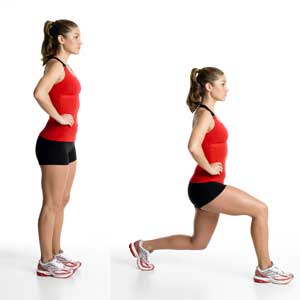 Exercise 5: Lunge
A fifth exercise that targets the muscles of your butt, thighs, and hips is the lunge. Putting one foot out in front of the other, lower your body toward the ground, keeping your abdominals tight and your torso straight. Lower until the front knee is bent at 90 degrees and not extended past your toes. Stand back up and then extend the opposite leg and bend. Perform 10 repetitions. For an increased workout, hold dumbbells in each hand.
Exercise 6: Run or Walk  
Running or walking outside or on the treadmill are other great exercises that work your butt while giving you a cardio workout to burn fat at the same time. Make it your goal to exercise 30 to 45 minutes at least three times a week, including walking or running each time.    Burn, Baby, Burn! These exercises are excellent ways to burn extra fat off your butt while adding the definition you desire. Not used to working your gluteal muscles? You'll definitely feel the burn the first few days, but the end result will be worth the effort!    If you're serious about transforming your body then call or email today to set up a consultation with me. Together we will create the perfect program that will quickly get you into the body that you deserve.